Lock Installation Washington, DC – Locksmith Service Washington DC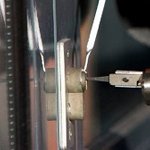 When you consider the rising rate of crime in Washington, DC area, you can just as easily be a victim of property crime as the person you read about in the newspaper. So, instead of turning a blind eye to the stories of theft, burglaries and home invasions you read about every day, you need to take action and opt for lock installation today! But why install a new lock when you already have one? Ask yourself this; when was the last time you changed your locks? If you said 5 years ago or never, then it's time to reevaluate your stance on security! Old and conventional locks hold no relevance today as criminals can easily find a loophole and a means to breach past these systems. What you need instead is the ultra-modern, robust and sturdy locks that have hit the market and are designed to thwart criminal attempts. So, which lock should you choose?
Despite the market being flooded with a huge array of options, consumers are often left in a conundrum when it comes to finding the right choice! But don't worry, because you can always turn to Locksmith Service Washington DC for advice related to lock installation.
Lock installation specific to your needs
There are hundreds of lock models in the market, but they're all not made for you! Each lock serves a purpose, and installing the wrong one could spell disaster! Consider that in an office of over a hundred employees, you install a padlock and hand out keys to all your employees. Can you imagine the chaos it would cause? Anyone can lose a key and it may fall into the wrong hands! That's why, to every specific requirement, there's a lock made just for that – and our specialists can help you identify what's the right one for you. Be it for homes, or offices, we make sure we understand the requirements before devising a customized lock installation solution!
24/7 lock installation services
Emergencies can come unannounced and leave you scrambling for help! What if you experience a break-in and are in dire need of a new and robust lock? What if after an eviction you want your locks to be changed right away? We understand the sense of urgency associated with such situations and provide our lock installation services on a 24/7 basis.
Mobile lock installation services:
Getting a lock from a hardware shop and then reading a manual only to mess up the installation is not advised. You don't have to resort to a DIY lock installation either because we run a mobile service in Washington, DC area. No matter where you are, we'll come to your place armed with the locks and the tools needed for the job, thus delivering and installing a new lock at your convenience.
If you want to get a new lock installed, then call 202-715-1348 now!